Andy Warhol (McKeasport, Pittsburg 1928 - New York 1987)
Andy Warhol was born in Pittsburg in 1928, the son of Slovakian immigrants. He studied graphic design at the Carnegie Institute of Technology in Pittsburg. In 1949 he moved to New York where he worked in the world of editorial graphics and publicity, collaborating with magazines such as Vogue, Glamour and the New Yorker.
In the Sixties Warhol created his first paintings and silk-screens for the world of comics and advertising, drawing attention to the reproduction, as pure created moments, of common images that would become icons of their time.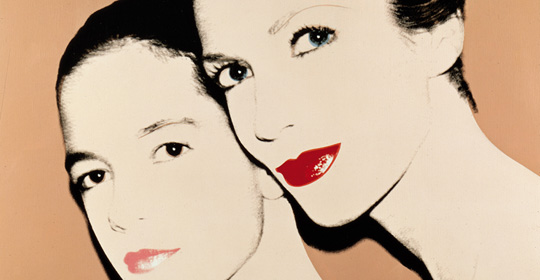 He made publicity images for major commercial brands (the most famous of which are Coca Cola and Campbell's Soup), along with striking images heavy with tension, such as Car Crash and Electric Chair. Among his most famous works are his portraits of Marilyn Monroe, Che Guevara e Mao Zedong. Pop-art was based on his style.
In the mid-Sixties he founded The Factory, a sort of workshop, where young New York artists could find a collective space to create art. Jean-Michel Basquiat, Francesco Clemente and Keith Haring, among others, all started or forwarded their careers here. In 1963 he began to get involved in cinema, making several feature films (Sleep in 1963 and Empire in 1964), as well as shorts and experimental films with a telecamera. He supported and financed several rock groups. In 1967 he published two books: Andy Warhol's Index and Screen Tests.
In 1969 he founded the magazine Interview, which focused on cinema, fashion, art and society. In 1975 he published The Philosophy of Andy Warhol (From A to B and back).
From 1972 onwards he crated 50 to 100 portraits every year of famous people and friends, which later formed the Ladies and Gentlemen series. In the Eighties came the Dollar Sign and Myths, which shows ten mythological figures, including himself, Superman, Dracula, Mickey Mouse and Father Christmas. He reused famous works from the past, such as Leonardo da Vinci's Last Supper and masterpieces by Paolo Uccello and Piero della Francesca.
He exhibited in New York, Paris, Philadelphia, Stuttgard , Düsseldorf, Monaco, Berlin, Vienna , Stockholm e Zurich. Many museums and galleries in the world display his art.
In 1980 he became the producer of Andy Warhol's TV.
He died in New York in 1987, in the course of a minor surgical operation.