Aranciera (Orangery)
The Villa Borghese's Orangery, now the location of the Museo Carlo Bilotti, has had a long and very interesting history; in the course of time it has undergone numerous, and substantial, transformations to both its appearance and its function.
The work done to transform the Orangery into a museum has made it possible to once again to see how much of the original structure remains and to recover several areas that had been lost over time. It has also provided an occasion to reconstruct, for the first time in its entirety, the history of the building.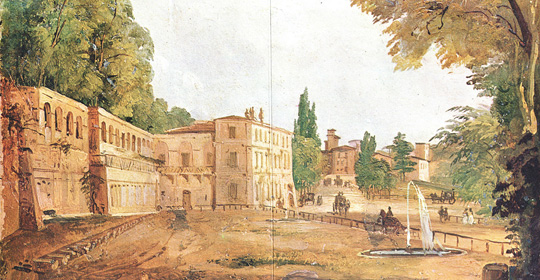 It already existed in the area from which the first Villa Borghese was created by Cardinal Scipione (1576-1633), and used as a quite prestigious residence by the noble Ceuli family, the building enjoyed its period of greatest splendour in the last quarter of the eighteenth century, in the ownership of Marcantonio IV Borghese (1730-1800). He, indeed, in the course of the extensive transformations of the Villa, had it enlarged and redecorated, the work of numerous famous artists, making it pivotal to the new appearance area, otherwise characterised by the spectacular Lake Garden. Its designation was also changed and the building was known as "The House of the Water Games" to highlight its purpose as a place of entertainment, where society events and parties were held, and widely reported in the commentaries of the time.
This glorious period did not, however, last for long, due to the disastrous bombardment of the building during the clashes that led to the fall of the Roman Republic in 1849. Reduced to ruins and then very freely reconstructed, without any trace of its rich decorative features, it was converted into an Orangery, a winter storehouse for citrus trees. After 1903, the point at which the Villa Borghese passed into the hands of the Municipality of Rome, it was used for offices and lodgings; next it housed a religious institute and finally, from 1982, it was used for municipal offices.