Accessibility
Sovrintendenza Capitolina ai Beni Culturali aims to guarantee access to its historical and artistic heritage to the widest possible audience.
Most of the Municipality Museums are accessible to everyone.
Although the historical character of the buildings prevents, in some cases, the total removal of the architectural barriers, many museums have installed elevators, stairlifts and services suitable for visitors with impaired mobility.
Our museums offer a wide range of tools and programs specifically designed for adults and children with disabilities.
To learn about the appointments of the dedicated educational activities, consult the Accesible projects
Accessibility for visitors with mobility disabilities

How to reach the museum
The museum is located in viale Fiorello La Guardia n. 6, inside Villa Borghese.
Access to Villa Borghese by car:
- arrive in Viale Fiorello La Guardia n. 10/14 where it is possible to park the car in a gravel area, after a few meters a ramp allows access to the sidewalk that leads to the entrance of the museum in Viale Fiorello La Guardia n. 6
Access to Villa Borghese by cab:
- arrive directly in front of the entrance of the museum in Viale Fiorello La Guardia n. 6
The visit
The museum is accessible entirely to people with disabilities.
The entrance to the museum is on the street level; a wheelchair is also available inside for those who have difficulty walking. In order to move from one floor to another, a platform stairway (maximum capacity 250 kg) is used, either independently or with the assistance of a guide.
Routes for blind and visually impaired visitors

The C. Bilotti Museum is equipped with permanent tactile supports that allow blind and visually impaired visitors to explore and learn about some of the most important works on display.
On the occasion of the exhibition "Arte e Natura. Opere dalle collezioni capitoline di arte contemporanea", which ended in October 2021, some contents have been created to deepen the knowledge of some of the works on display that we invite you to listen to the dedicated page
Accessibility for deaf visitors
LIS (Italian Signs Language) 
There is a totem with a video in sign language-LIS.
LIS video Museo Carlo Bilotti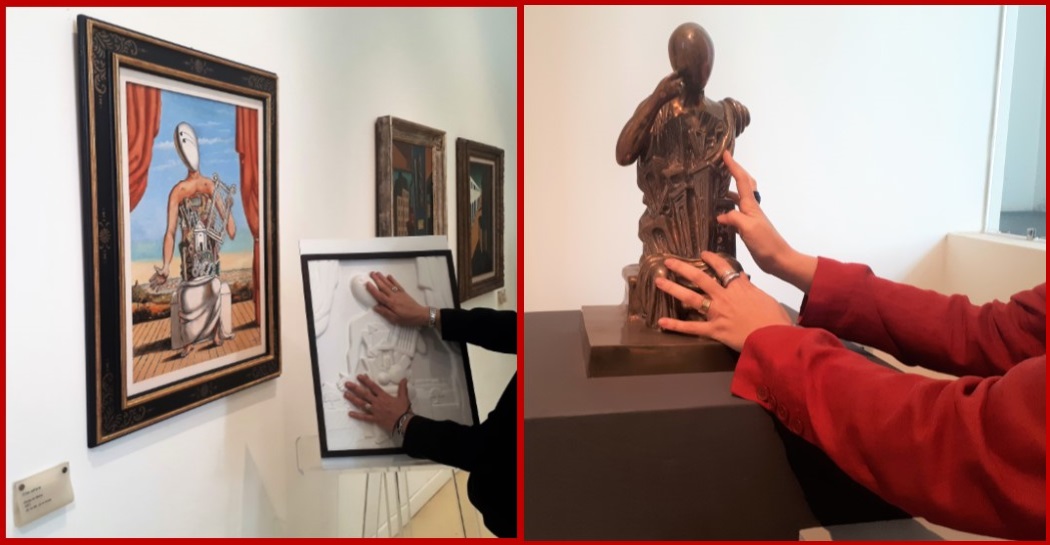 Museo Carlo Bilotti Aranciera di Villa Borghese
05 August - 31 December 2023
Una visita guidata tattile-sensoriale con operatori specializzati disponibile su richiesta.
There are no planned events.
In archive
No archived material