Damien Hirst. David Salle. Jenny Saville - The Bilotti Chapel
Immagine: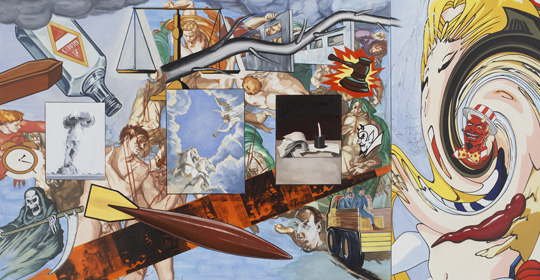 10/05 - 01/10/2006
Museo Carlo Bilotti Aranciera di Villa Borghese,
The exhibition, curated by Gianni Mercurio, who is responsible for presentation in the Museum, presents several major works expressly commissioned by Carlo Bilotti from three important contemporary artists.
The intention is to create an exhibition space, more mental than physical: an environment that is meditative, in a broad sense, an environment which, as Bilotti himself says "can put you in a good or bad mood".
The three artists, when challenged by the project, responded in different ways, maintaining their own autonomy and individualism.
Damien Hirst, the most well known, unprejudiced and iconoclastic of young contemporary british artists, on this occasion has made use of the theme of the Four Evangelists, using an intellectual-symbolist approach (neoconceptual). They are works of monumental size and therefore strong visual impact, created following his usual poetical artistry, using various materials, including butterflies, pills and pages torn from the gospels.
David Salle, a well known American artist, belonging to the generation that emerged in the Eighties, has reproduced various sections of Michelangelo's frescos in the Sistine Chapel, including the Creation of the Sun and the Moon, the Flood and the Last Judgement, transposed into a modern setting.
Jenny Saville, a young English artist who lives between London and Palermo, has created three large canvases, finding in the theme of illness that also of expiation, reflection on the suffering of humanity, independent of their individual natures.
Damien Hirst's works have recently been on display in London and Palm Beach, those of David Salle and Jenny Saville are shown here for the first time.
The exhibition, made possible by financial support from the Foundation of the National Bank of Communications, is accompanied by a bilingual (italian/english) catalogue (Electa), containing essays by the curator, Gianni Mercurio and the critics Demetrio Paparoni and Mark Rosenthal.
Information
Place
Museo Carlo Bilotti Aranciera di Villa Borghese
Entrance ticket
€ 6,00 full price
€ 4,00 reduced price
Information
06 82059127 every day 9.00 am – 7.30 pm
Type
Exhibition|Contemporary art
Organization
Zètema Progetto Cultura
Artist
Damien Hirst, David Salle, Jenny Saville
Catalogo
2006, 119 p., ill., brossura
Editore:
Mondadori Electa (collana Musei in Comune. Roma)
Eventi correlati
Currently there are no ongoing activities.
There are no planned activities.
There are no archived activities.